The flexible SAP Interface
Xtract Universal – automatic data warehousing
"Previously we were not able to bring the SAP data that we need for our reporting into Tableau. Today we can deliver Tableau reports with SAP data fast and reliably to our business users."
Taru Gupta, Business Intelligence Manager at Atmel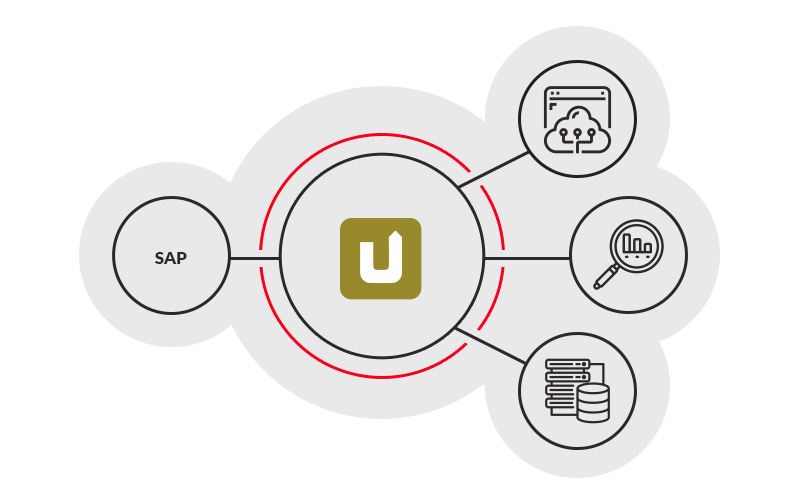 SAP INTEGRATION IN TARGET ENVIRONMENTS
The main features of Xtract Universal
Highly automated
Xtract Universal enables you to save data streams from SAP to any destination environment, and thereby significantly reduce development time, thanks to a high degree of automation.
The result is maximum ROI with minimum risk and cost. In addition, Xtract Universal is also virtually independent of the client's desired or existing data warehouse technology, and can therefore also be integrated into existing data integration landscapes:
Alteryx, Power BI, Oracle, Amazon Redshift, EXASOL, Tableau, Qlik, Microsoft SQL Server, IBM DB2, HP Vertica, Teradata, SharePoint, GoodData, such as the generic formats HTTP (CSV, JSON, OData) and Flat File (CSV, JSON).
Scaling and security: Enterprise-ready
Whether intended for use as a data mart solution for individual departments or subsidiaries or as part of an enterprise-wide BI strategy, Xtract Universal can meet all IT and specialist user requirements:
Central monitoring of all extraction activities and detailed logging
Wide variety of extraction types that can be used to extract data from all SAP modules and SAP BW
Security and user management with optional Active Directory (AD) linking for handling highly sensitive data
Integrated data type safety and traceability, from source through destination
Instant Data Warehousing – Maximum Design Performance
The idea of instant data warehousing with Xtract Universal is to make the load process design as simple, and therefore as fast as possible.
Whether you want to create a company-wide enterprise data warehouse or set up a data mart for a single task or a department, the first step is always to retrieve the relevant data.
Destinations
Xtract Universal supports a number of environments as the target for the data extraction. In addition, data streams are also provided in other common formats, such as HTTP (CSV, JSON, OData) and Flat File (CSV, JSON), to facilitate access to target environments that are compatible with such formats (for example, Excel, Access, Tableau and a large number of third party software producers and OEM partners).
GET TO KNOW XTRACT UNIVERSAL
Why SAP integrations?
Seamless SAP Integrations
Your advantages with Xtract Universal
Based on SAP certified technology*

Integrate your SAP data in the most different target systems

Very fast installation and configuration

Fast, simple & user-friendly; programming knowledge not necessary

Instant Datawarehousing for maximum design performance

Minimal to zero intrusion in your SAP system
Cross-module and module independent

Business logic is available

Robust, standardized process for incremental loads (Delta logic)

Central monitoring and process monitoring for complete control of SAP access

Cost savings through optimal integration, no friction losses
*Our SAP certified product ERPConnect provides the kernel for all our products and is responsible for the connection to each SAP system.