Leading provider for SAP integration
We are
difficeasy
Choose Theobald Software, one of the world's leading experts in SAP integration. We develop software solutions that make SAP integration as simple as possible for you. We simply turn "difficult" into "easy". This is what we call "difficeasy". That's why even non-IT users can achieve the wanted results with our solutions in just a few hours.
Theobald Software
Complicated is past
Do you think data integration with SAP is complicated? We turn difficult into easy. It's called difficeasy. Why? Because we can. And we have for more than 15 years.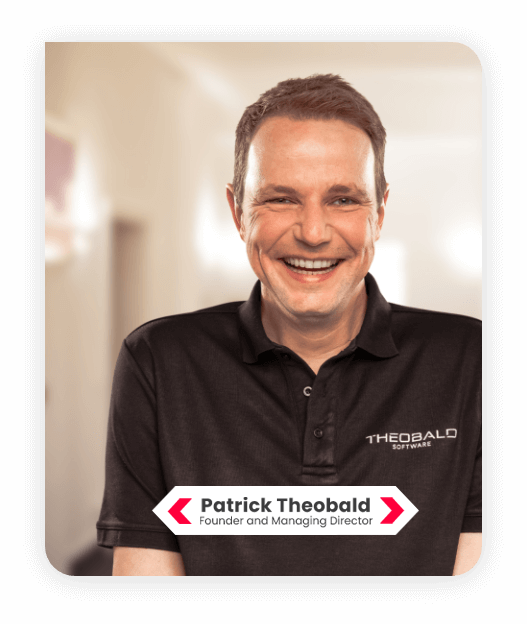 We make it easy.
We started out in 2004 with a programming library that enables the development of SAP interfaces and therefore the retrieval of data from SAP. It was programmed by our founder, Patrick Theobald, who refused to accept that SAP was its own separate universe.
Today we cover integration with all standard BI/analytics solutions, databases, cloud solutions, and applications for process integration of market-leading third-party systems: from Microsoft technologies such as SQL Server, Power BI, SharePoint On-Premises, SharePoint Online, Office 365, and SQL Server Integration Services to independent data warehouse technologies such as Oracle, SAP HANA, and Exasol, all the way to business intelligence solutions such as Tableau, Qlik, and BOARD.
Moreover, we also offer SAP integration for analytics platforms such as Alteryx, CRM solutions such as Salesforce, and cloud solutions such as Azure, Snowflake, PostgreSQL, Google Cloud Storage and Amazon S3. But that's not all: we also make your SAP data available in workflow solutions such as K2, Nintex, Power Automate, and Power Apps.
Thanks to our close partnerships with Microsoft and SAP, we are always up to date on the latest technologies. We are supported by our carefully selected implementation and OEM partners who use our tools to build custom solutions for all types of projects where SAP data needs to be securely and reliably transferred from point A to point B.
We tackle your interface challenges with experience, technological know-how, enthusiasm, and diligence. No matter if it's difficult or easy. You can count on us! Just like our more than 3,200 clients that we support around the globe.
Speaking of our international network: Since we prefer to be close to our clients, in addition to our headquarters in Stuttgart, we also have subsidiaries in Paris, Seattle, Hong Kong, and Dongguan.
Let us know what we can do for you – from easy to difficult, in Germany or abroad – we're happy to help.
Where do we want to go?
Vision

1. Company: Site and brand development are important to us. For this reason…
…identify the client's needs, and needs of the market, when required, and react appropriately.

…promote unconventional ways of thinking, whilst still working towards creating simple solutions.

…support the active (continued) development of our corporate culture with flat hierarchies and simple processes.
2. Client: Our clients can rely on us because we…
…work with an eye to the future, and so offer high investment security.

…achieve demanding tasks flexibly and simply.

…can be contacted from anywhere in the world and impress our customers with our expert service.
3. Staff: Our staff work with passion and motivation. For this reason,…
…each one of them takes on the challenges of their daily tasks, keeps the bigger picture in mind, shows personal initiative and identifies opportunities.

…we focus on the product – software is our future.

…we invest our expertise to effectively achieve international alignment and growth.
Making history
2004
Foundation of Theobald Software
Theobald Software was founded in Stuttgart in 2004. Since then, our company has evolved to become the leading supplier of SAP integration systems.
2004
Market launch of ERPConnect
Everything began with our ERPConnect product in 2004. That was inspired by the fact that, at the time, there were no suitable solutions for SAP integration for .Net. So Patrick Theobald decided to find his own solution, determined not to leave it to someone else.
2006
Market launch of Xtract IS
The next logical step was to offer more solutions for SAP integration, based on ERPConnect. Consequently, we released Xtract IS in 2006. It is a SAP integration tool which is embedded in the SQL Server Integration Services.
2011
Cooperation with DHBW
As more and more enquires came in, we needed more and more staff. For this reason, we have been a "dual partner" with DHBW Stuttgart since 2011.  The German "dual study system" involves on-the-job training with a workplace training provider, a "dual partner" such as our company, and academic studies at DHBW Stuttgart or another academic institution. Students gain theoretical knowledge, but also learn to apply that knowledge in practice. We now regularly offer study places for Computer Science and Business Administration – Digital Business Management.
2011
Market launch of Xtract Universal
After we launched Xtract IS, we received more and more enquires about other system environments, so we developed our universal interface for SAP integration in 2010. Xtract Universal continues to be extended to cover additional target environments to this day.
2012
Market launch of ERPConnect Services
In 2012, we launched ERPConnect Services, a process integration solution for linking SAP and SharePoint with each other. It was primarily developed in response to the requirement to integrate workflow applications.
2013
Opening of Seattle subsidiary
"Theobald goes USA!" To handle the huge number of enquiries we were getting from the USA, we had to take the necessary step and open our subsidiary in Seattle, right next to Microsoft. This enabled us to respond to enquiries quickly and provide clients with optimum support.
2015
Opening of Hong Kong subsidiary
欢迎 Theobald Software. In 2015, we decided we needed to establish a presence in Asia, to preemptively avoid language problems. Since then, we have been available to handle all your enquiries in the world metropolis, Hong Kong.
2016
Foundation of Peakboard subsidiary
The development of Peakboard is physical proof of our managing director's innovative and creative mindset. The Peakboard tool for displaying company financial data and processes has been a wholly owned subsidiary of Theobald Software GmbH since 2016.
2017
Opening of Paris subsidiary
As the French market is also characterised by certain linguistic restrictions, we opened our fourth subsidiary in Paris, the heart of France, in 2017. As a result, we are now able to provide excellent support to the French-speaking regions of Canada and Switzerland.