SAP Salesforce Interface
Xtract Universal – Salesforce Destination
Integrate your SAP data in your Salesforce Destination – fast, straight-forward and user-friendly.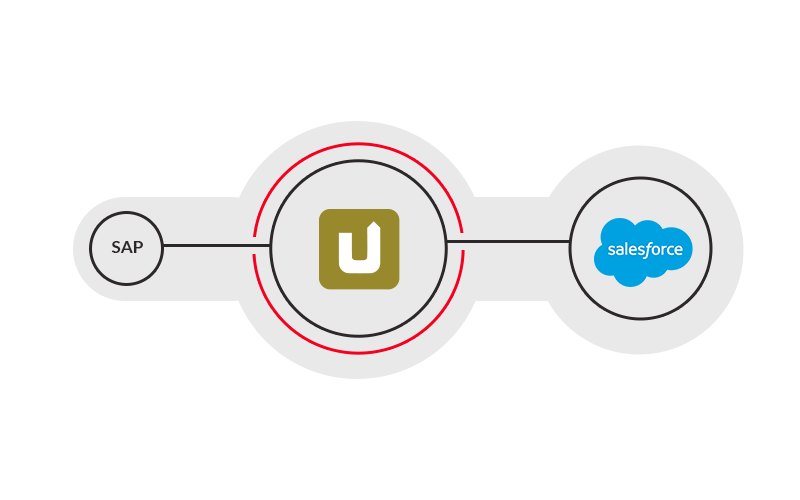 USER-FRIENDLY DATA INTEGRATION
The main features of Xtract Universal & Salesforce
Architecture
Xtract Universal enables you to extract SAP data to any destination environment, and thereby significantly reduce development time, thanks to a high degree of automation.
Salesforce is much more than just a CRM solution. It brings together all your customer information in a single, integrated platform that enables you to build a customer-centred business from marketing right through to sales, customer service and business analysis. This gives you more complete understanding of your customers to drive your business's success.
The central server component constitutes the data hub between SAP and Salesforce applications. Extractions are created as well as accesses released and monitored for consumers via the Designer. Access is to one or more SAP ERP or SAP BW systems:
Data flow modelling
Generally speaking, data extraction between SAP and Salesforce can be modeled in different ways depending on the desired architecture and how it will fit into an existing customer landscape.
In the first option Xtract Universal extracts SAP data directly to Salesforce without any intermediate storage or middleware.
A second option is to fill an arbitrary data warehouse (e.g. Oracle, Teradata, etc.) using the concept of Instant Data Warehousing, and subsequently accessing the data with Salesforce.
Scaling and security: Enterprise-ready
Whether intended for use as a data mart solution for individual departments or subsidiaries or as part of an enterprise-wide BI strategy, Xtract Universal can meet all IT and specialist user requirements:
Central monitoring of all extraction activities and detailed logging
Wide variety of extraction types that can be used to extract data from all SAP modules and SAP BW
Security and user management with optional active directory linking for handling highly sensitive data
Integrated data type safety and traceability, from source through destination
Extraction opportunities
The Xtract Universal Component Suite offers nine components to provide all kinds of SAP interface technologies.
INTEGRATING DATA IN A SALESFORCE TARGET ENVIRONMENT
Your advantages with Xtract Universal & Salesforce
Based on SAP certified technology*

Integrate your SAP data in your Salesforce destination

Very fast installation and configuration

Fast, simple & user-friendly; programming knowledge not necessary

Minimal to zero intrusion in your SAP system

Cross-module and module independent

Show more advantages
Business logic is available

Robust, standardized process for incremental loads (Delta logic)

Central security concept

Central monitoring and process monitoring for complete control of SAP access

Cost savings through optimal integration, no friction losses
*Our SAP certified product ERPConnect provides the kernel for all our products and is responsible for the connection to each SAP system.