Seamless connection of BOARD and SAP
BOARD Connector for SAP
"Today, the creation of reports and their subsequent distribution to the required recipients is fully automated."
Robin Pietschmann, IT Project Manager at MAIRDUMONT GmbH & Co. KG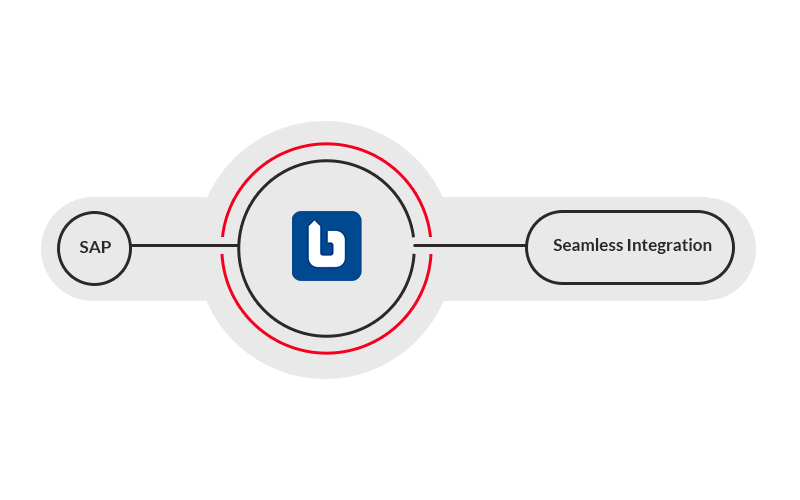 INTEGRATING SAP DATA IN BOARD
The main features of the BOARD Connectors
Architecture
A user-friendly graphical interface will allow you to easily implement your data flows in a secure and type-safe way and to extract mass data in few clicks with high performance and stability.
The BOARD Connector for use with SAP offers nine components to interoperate with all kinds of SAP interface technologies.
For more information about BOARD please visit the company's website.
Table
The Table component lets you extract mass data directly from SAP data tables. To optimize the system load and network traffic, only the columns explicitly marked by the user are extracted.
Packaging function to handle large amounts of data
Asynchronous processing of data packets
Additional Where-statements
Type safety and metadata support by 100% from SAP's data dictionary
Query
The Query component makes your SAP queries directly available in BOARD. With a graphical user interface and full metadata support, the result is available for further processing within seconds.
Table joins without SAP developer rights
Dynamic adjustment of the select options and variants
Type reliability thanks to metadata support
BW Cube and BW Query
The BW Cube component extracts data sets from SAP BW InfoCubes. The dimensions, key figures and attributes to be transferred can simply be dragged and dropped into the query output. Simple and complex query variables are also supported.
Supports BW Variables (also complex selection criteria)
Value output can be attuned to be either formattable or non-formattable (e.g. for scaling factors)
Packaging function to handle large amounts of data
Direct Cube access and access through Queries are supported
Open Hub Services (OHS)
You can use the OHS for the extraction of BW data for further electronic processing instead of just pure reporting.
Extremely large data volumes through packaging and asynchronous background processes
Delta extracts possible
Not just cubes, but also InfoObjects, ODS objects, texts etc.
Extraction definition with the help of InfoSpokes (BW 3.5) or data transfer processes (BI 7.0)
Report
The Report component allows you to use existing ABAP reports or ABAP programs as data sources within the BOARD DataReader.
This technique is often used in the area of FI/CO reporting. With this component you can protect your investments because existing logic doesn't have to be reengineered – it can simply be reused.
Use of variants is possible (even dynamic per variable)
Even complex reports based on an ALV grid can be generated
Extremely long running reports are supported by asynchronous techniques (no RFC timeout)
DeltaQ
The DeltaQ component forms the top class of the BI components for SAP access by BOARD. With its help, the Extractor API in SAP ERP can be addressed and in such, the functionality with which BW systems also secure their data supply from the production system can be used.
Real transaction-secure delta transfer of data
Support of all master and transaction data including own generic extractors
No installation in SAP required
All business contents are available immediately even though no application-specific knowledge (e.g. about the tables' structure) is required.
Export DataSources in BW systems can be accessed as well
ODP
The ODP components is the crème de la crème when it comes to extracting data from SAP. With the help of the ODP component, users can extract what are known as SAP DataSources. The main benefit of DataSources is the integrated mechanism for incremental data extraction—a function also employed by SAP BW. By using the DataSources the ODP component eliminates the need for an SAP BW. The ODP component is Theobald Software's response to the new SAP ODP extraction types. Additionally to DataSources, this component can also be used to extract CDS views, BW/4HANA objects, and other data sources.
INTEGRATING SAP DATA WITH A BOARD CONNECTOR
Your advantages with BOARD Connector
Based on SAP certified technology*

Minimal to zero modification in your SAP system

Very fast installation and configuration

Fast, simple & user-friendly; programming knowledge not necessary

Cross-module and module independent
Business logic is available

Robust, standardized process for incremental loads (Delta Logic)

Central security concept

Central monitoring and process monitoring for complete control of SAP access

Cost savings through optimal integration, no friction losses
*Our SAP certified product ERPConnect provides the kernel for all our products and is responsible for the connection to each SAP system.