Azure Storage (Blob / Data Lake) for Your SAP Data
Xtract Universal – Azure Storage (Blob / Data Lake)
Use the advantages of Azure Storage for your SAP data.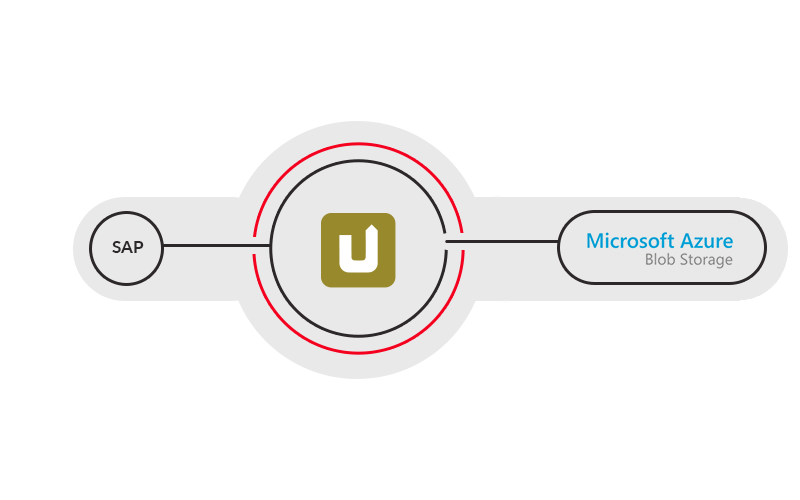 Integrate SAP data quickly
The main features of Xtract Universal with Azure Storage (Blob / Data Lake)
Azure Blob Storage is as a massively scalable object storage for unstructured data. The big capacity as well as the massive scalability enables a cost-effective storage of any type of unstructured data, starting from hundreds to billions of objects. Use the advantages of Azure Blob Storage for your SAP data. In the following section, we will showcase the opportunities that an SAP integration with Azure Blob Storage can bring to your company.
Why move SAP data into Azure Blob Storage?
Store business-critical data from SAP together with other data assets in one central place. Easily distribute data to other managed services, such as Microsoft HDInsight for big data analytics.
Different options for processing the data in Azure
Process your SAP data in a flexible way or import large amounts of data to Azure SQL Server, by using BULK INSERT. Use your SAP data directly in the powerful open source solution Apache Hadoop for big data. By doing so, you have the possibility to deploy intensive calculation processes with large amounts of data on a collection of servers which are pooled to one cluster. Besides that, Hadoop offers an ecosystem of additional technologies for Advanced and Predictive Analytics, Data Mining and Machine Learning.
Scaling and security: Enterprise-ready
Whether intended for use as a data mart solution for individual departments or subsidiaries or as part of an enterprise-wide BI strategy, Xtract Universal can meet all IT and specialist user requirements:
Central monitoring of all extraction activities and detailed logging
Wide variety of extraction types that can be used to extract data from all SAP modules and SAP BW
Security and user management with optional active directory linking for handling highly sensitive data
Integrated data type safety and traceability, from source through destination
Performance
Xtract Universal enables a performant and scalable extraction of your SAP data from your existing SAP environment (ECC, BW, S/4HANA, BW/4HANA, etc.) Our DeltaQ component represents the best-in-class of the data access components for SAP. With its help, the Extractor API in SAP systems can be addressed in the same way that a BW system secures its data supply from the production ERP system. Thereby a real transaction-secure delta transfer of data is possible.
Furthermore, you can transfer SAP data directly to Azure Blob Storage, without the need of an interim data or file storage system, because Xtract Universal enables a direct data feed. Besides that, you have the possibility to import large amounts of data via BULK INSERT in a highly performant way to Azure SQL Server. The GZIP compression, which is supported by Xtract Universal, leads to a significantly faster data upload, with less space needed in Azure Blob Storage.
Security
Because of the highly sensitive nature of business-critical SAP data, the security aspect is very important when we talk about data warehousing in the cloud. An integrated HTTPS/SNC transport encryption ensures a secure transfer of your data between your on-premise SAP systems and Azure Blob Storage. Besides that, all data written to Azure Storage is encrypted through 256-bit AES encryption, one of the strongest block ciphers available.
Extraction opportunities
The illustrated extraction components cover the complete range of data integration from SAP.
Easy integration of SAP data
Your advantages with Xtract Universal & Azure Storage
Based on SAP certified technology*

Integrate your SAP data in your Azure Storage destination

Very fast installation and configuration

Fast, simple & user-friendly; programming knowledge not necessary

Instant Datawarehousing for maximum design performance

Minimal to zero intrusion in your SAP system

Show more advantages
Cross-module and module independent

Business logic is available

Robust, standardized process for incremental loads (Delta logic)

Central security concept

Central monitoring and process monitoring for complete control of SAP access

Cost savings through optimal integration, no friction losses
*Our SAP certified product ERPConnect provides the kernel for all our products and is responsible for the connection to each SAP system.